Nanoil Hair Oil is a professional support for hair available in three versions and created for all hair types – from the damaged to the difficult in styling. You can purchase one of three versions: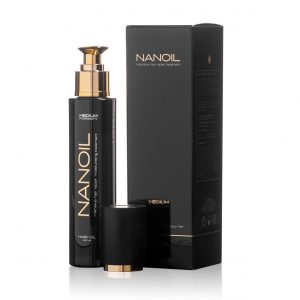 Nanoil for low porosity hair,
Nanoil for medium porosity hair,
Nanoil for high porosity hair.
It is multitasking cosmetic for hair and scalp that can solve all your hair problems – it not only nourishes, hydrates, regenerates and strengthens on the inside and out, but also beautifies, prevents hair loss and stimulates hair growth.
These properties are a merit of the best substances, natural oils composed of additional vitamins and conditioning substances.
COMPOSITION of Nanoil Hair Oil may mesmerise you with how natural and perfectly it is composed. No other product can offer it. Nanoil hair oil is based on natural oils (depending on the version there is 6 to 9 of them). Oils were chosen to contain the most EFA for the given hair type. However, this is not all! On top of this, every Nanoil hair oil is enriched with a sun filter, vitamin E and curious substances for hair growth stimulation and with anti-hair loss action. It needs to be mentioned that Nanoil hair oil contains no silicone, paraben, alcohol, etc.!
Product's webpage (nanoil.us) ← here's more information on ingredients of every Nanoil Hair Oil
PROPERTIES of Nanoil Hair Oil is easier to describe as a three step hair care. Nanoil has double action on the inside and on the outside to restore hair with health for a long time.
Nanoil works on the hair surface to seal cuticles, provide smoother, softness and gloss, ensures water-lipid layer regeneration and limits water loss; on top of it, it coats hair with a protective layer against the sun and toxins, etc.
Nanoil works inside the hair where it strengthens and repairs damages to the keratin fibres, makes it elastic, provides proper hydration level and nourishes
Nanoil works on the scalp where it takes care of blood circulation is skin, ensures pH balance, regulates work of sebaceous glands, moisturises, nourishes and strengthens hair bulbs, limits irritations, stimulates hair growth
How do Nanoil hair oils work?
Of course, it needs to be said that depending on the type of oil it will focus on a slightly different hair problem. Therefore, Nanoil for low porosity hair is expected to mostly speed up drying time, protect against the sun exposure and to facilitate styling. On the other hand, Nanoil for high porosity hair was designed to regenerate, strengthen and improve the appearance of dry and damaged hair with split ends. However, Nanoil for medium porosity hair will prevent frizzy hair, provide vitality, restore opulent gloss and softness, and protect hair against worsening of its condition. Nonetheless, every Nanoil hair oil is equally versatile, makes hair healthy and beautifies it the way it is the best and the most effective for the given hair structure.
USE of Nanoil Hair Oil is effortless, so it can be done various possible ways, that you can choose accordingly to the needs or possibilities. You can perform dry hair oiling and wet hair oiling, but most important you can do it both before and after hair wash. Nanoil hair oil applied overnight and washed down in the morning ensures more intense action than the best hair conditioner, and when used before drying or styling, it makes hair light, speeds up drying time and facilitates styling. Nanoil hair oil can be used for hair oil treatment in the bowl, for hot oil treatment or as an oily mist. The gentlemen that like to take care of their beards can also rub Nanoil hair oil so that they beards were opulent and healthy-looking.
FORMULA of Nanoil Hair Oil is flawless because oil is absorbed perfectly by hair and scalp due to light, semi-liquid formula. It leaves hair velvety soft and fresh with beautifully natural fragrance. This makes Nanoil hair oil way better than the conditioner because it can be applied on the scalp and causes no weighing down.
EFFICIENCY of Nanoil Hair Oil deserves a praise. Concentrated yet light formula is easy to apply on hair and even its small amount works. Just 2 or 3 portions (for long hair) is enough for one use, including scalp massage. Thanks to the efficiency the 100 ml Nanoil hair oil lasts for few months of regular application, for example, every hair wash. It is worth is the price!
AVAILABILITY and PRICE of Nanoil Hair Oil are another advantages. Although, some people may disagree on the second matter. However, you need to take into consideration that such a long lasting hair oil treatment, such an effective treatment and such a great composition need to have their price. It is not over the top if you really think about it. Nanoil hair oil is available online. On the official webpage, you can read more about its action, properties of each ingredient, which oil is best for the given hair type and of course you can order your Nanoil hair oil straight to your home.
Why would I buy Nanoil Hair Oil?
No doubt it is one of the best-designed hair cosmetics with natural composition, made in three versions for different hair types, contains additional components for hair growth stimulation and with anti-hair loss action, has an elegant bottle and is really efficient.
Why WOULDN'T I buy Nanoil Hair Oil?
Even heavy and easy to dirty, bottle that is covered with fingerprints is not able to steer me from buying Nanoil Hair Oil one more time.