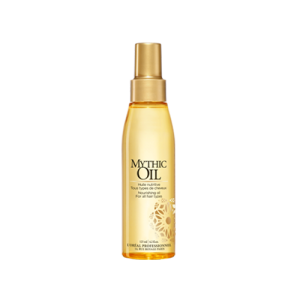 Mythic Oil Nourishing Oil is an oriental conditioning ritual placed in cosmetic available to everyone. My friend convinced me to try Mythic Oil hair conditioner. At that time I had no idea that there are four products in this line and just chose the first one I lied my hands on – entirely different than recommended, but it turns out that it works perfectly for me.
COMPOSITION of Nourishing Oil from L'Oréal Paris is simple and there is nothing I could complain about. Avocado oil along with grape seed oil are base for this oil hair conditioner, but at the same time they enrich cosmetic with vitamin complex and essential fatty acids (also omega). What is more, cosmetic was complemented with fragrances and silicones, which unfortunately exclude this conditioner as a product for everyone, because many hair types does not like silicones.
PROPERTIES of L'Oréal Paris Mythic Oil is based on basic action, i.e. nourishment. It was dedicated for all hair types and on its base there were created three other versions for dry or colour treated hair, but also with addition of brocade. Mythic Oil Nourishing Oil, beside nourishment, eliminates dryness, provides softness and increasingly speeds up drying time. Indeed, my hair always dried for a really long time, and the last time (after use of Mythic Oil) and removing excess water with towel, my hair were almost dry after just few minutes with no frizzing effect. There was a reason for me to say that it was the best choice I could make, because my wild hair, for the first time in a long time, were tamed without weighting them down.
There is nothing that I can complain about when it comes to properties of this hair conditioner.
USE of Mythic Oil Nourishing Oil should not cause any problems, even to those who rarely use hair conditioners. Few drops of Mythic Oil need to be spread in hands and applied on hair; those can be either dry or wet. The more dry hair the more oil you can apply so that hair absorbed right amount of it.
FORMULA of Mythic Oil is in my opinion perfect. I love oil based hair conditioners, so I am truly fond of Nourishing Mythic Oil consistency. The cosmetic has beautiful handy bottle made of glass with a dispenser. The conditioner is liquid, as it is with products with oils, but at the same time it is exceptionally light and delicate. It has great scent, which sadly does not last on hair for long.
EFFICIENCY of L'Oréal Paris conditioner I would describe as good. Despite liquid formula, conditioner lasts for a long time, which I consider a merit of two elements – precise dispenser and light formula that perfectly administers on hair. I have long hair and 1 dose is enough to cover them from the roots and feel the difference.
AVAILABILITY and PRICE of Mythic Oil Nourishing Oil cause no problem. For 100 ml/3.52 oz. packaging you will pay about £13, which in combination with such an efficiency is an enormous plus. Hair conditioner lasts for a long time, and when it comes to buying the new one, there will be no problem as well – Mythic Oil can be purchased online and in many stationary shops.
Why would I buy Mythic Oil Nourishing Oil?
Hair conditioner from this brand is one of my favourite, because of its great nourishing maintaining properties. I love that this cosmetic is based on two natural oils, has very efficient formula, pleasing scent and applies with no problem.
Why WOULDN'T I buy Mythic Oil Nourishing Oil?
The only drawback of this oil conditioner for hair is not entirely organic composition with silicones and very briefly lasting scent.