Elseve Arginine Resist X3 is also available as a Fall Repair 3X Anti–Hair Fall Conditioner, but the rule is the same – conditioner is expected to strengthen hair and prevent excess hair loss.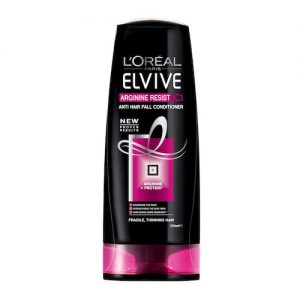 COMPOSITION of Arginine Resist X3 is a combination of two key ingredients for proper hair functions. Firstly, ARGININE, i.e. amino acid responsible for hair structure. Furthermore, enrichment of hair structure with arginine is an important matter for their growth. Another ingredient is a derivative of PROTEIN, which is great for weak streaks.
PROPERTIES of Fall Repair 3X conditioner is a merit of arginine and protein. Its complex formula stimulates micro-circulation in skin, so that absorption of nourishing ingredients by bulbs was more efficient. What is more, product has a triple action on hair: nourishes, restores, strengthens and that directly relates to limitation of hair loss problem. Right after first application of conditioner on hair can be observed significant difference in their condition – they are thicker, but also softer. On top of that, hair are easier to comb. Hair loss caused by their weak condition and tendency to brittleness are being eliminated within a first week what can be observed after each use; there is just less of them left in the bathtub or shower.
It would be perfect if conditioner additionally smoother hair, because after its use they are quite rough, and that could be eliminated with ingredient like e.g. oil.
USE of Anti–Hair Fall Conditioner is based on three steps – thorough administration of conditioner on damp and washed hair, waiting time of 5 minutes for ingredients to absorb in hair and thorough rinse.
FORMULA of L'Oréal Arginine Resist is no different from other conditioners, though it is more thick than products of competition. It is a creamy and clear conditioner with white colour. The greatest surprise, positive of course, was the fragrance of product – very floral and fruity with expressive note of strawberry. When I smell it, I want to eat it and the scent is very intensive.
EFFICIENCY of Elseve Arginine Resist X3 is not very impressive, because product is running out pretty quickly. It is a result of conditioners' consistency, which is really thick, so we have to apply it much more to cover entire hair. What is more, I would much rather prefer to dose this conditioner with some precise pump.
AVAILABILITY and PRICE of L'Oréal Paris conditioner is quite alright, despite various names in different countries. Arginine Resist X3 is the same conditioner as Fall Repair 3X and their prices are similar. Both of them are available in stationary shops and online.
Why would I buy Arginine Resist X3?
Conditioner contains large amounts of arginine and protein, which are natural hair lumber and make hair visibly stronger and prevent them from falling out; application causes no problem, scent is beautiful and price and availability great.
Why WOULDN'T I buy Arginine Resist X3?
The product causes roughness of hair and in no way smoothers streaks, and its efficiency is really low because of too thick consistency.