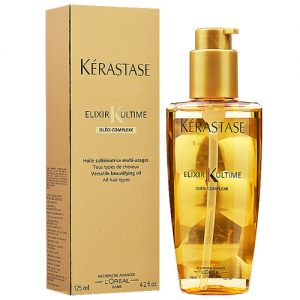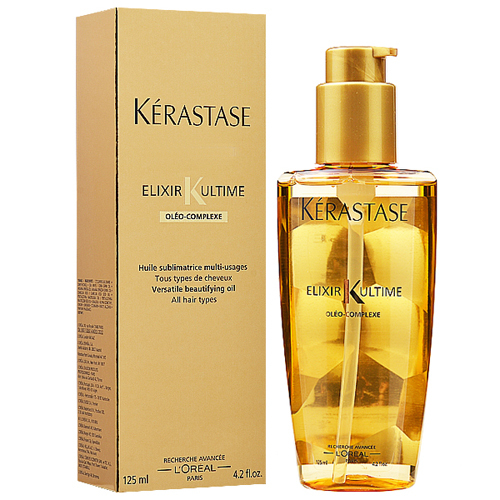 Elixir Ultime Oléo-Complexe is a hair conditioner that I have for many years now and I am its faithful supporter. It is truly diverse cosmetic that bases only on four natural oils. Therefore, after month of use of hair conditioner from Kérastase, my hair are visibly more nourished, even though this product has its flaws.
COMPOSITION of Kérastase Oléo-Complexe is very simple and I like it the most out of cosmetics of this type. Manufacturer praise on the fact that this hair conditioner is a cocktail of four luxurious oils with great properties; there are present corn oil (natural antioxidant), argan oil, tea seed oil and pracaxi oil – each with different properties.
Unfortunately, composition was not short on silicones (luckily mild) and fragrances.
PROPERTIES of hair conditioner Elixir Ultime is based on oils; mentioned above. And so, corn oil makes hair soft and ensures natural shine, what can be observed after first application. Furthermore, nourishment and protection against damages and harmful external factors (like freeze, rain, UV radiation) are a merit of argan oil. Tea seed oil is a bit less known, however its action is smoothing of hair fibres. It is difficult to assess if it is a merit of tea seed oil or corn oil, but hair are indeed smoother and velvety in touch. The wild card for me was pracaxi oil, because along with purchase of this conditioner I have heard about it for the first time. Its task is deep nourishment and healthy gloss. Kérastase hair conditioner truly works, though I have to put it aside for some time, because my hair have started to become dry after more or less month treatment.
USE of K Ultime Oléo-Complexe does not cause greater problems, especially considering that ways of application were in detail described by manufacturer. Even though I am accustomed to creamy hair conditioners, I had no bigger problems with Elixir Oléo-Complexe, which perfectly administers on hair.
FORMULA of Kérastase conditioner is clear and efficient, because even few drops are enough to cover hair on their entire length. Great advantage of hair conditioner with oils is that it is light and absorbs fast and that means no greasy or weighted down hair.
EFFICIENCY of Kérastase Elixir Ultime is a true role model for other brands. Conditioner has adjustable dispenser; pump gives possibility of taking greater or smaller amount of oil serum in just one move. Efficiency is impeccable, however there appears problem with use of conditioner before the expiration date. Kérastase Oléo-Complexe preserves its properties for 18 months and last time I had a hard time to use it all up even with the regular use.
AVAILABILITY and PRICE of Oléo-Complexe from Kérastase is no surprise. The product is effective, so no wonder that its price is one of the highest. For my last bottle I paid £45.00 in online shop. Hair conditioner Elixir Ultime can with no greater problems be bought online, or at least there is no problem with it for now.
Why would I buy K Ultime Oléo-Complexe?
It is an effective, safe and amazingly efficient product with immediate properties thanks to very nice formula, great absorption and complex of natural vegetable oils.
Why WOULDN'T I buy K Ultime Oléo-Complexe?
Conditioner has too short expiration date and causes dryness on my hair if used regularly for a longer period of time, and its price could be a bit lower.