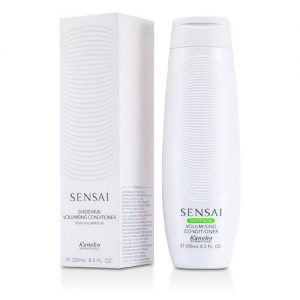 Shidenkai Volumising Conditioner was dedicated for nourishment and conditioning of all hair types, though it is in particular recommended for people with fine and dry hair and sensitive scalp. It is rather occasional for me to try products of such luxurious brands, but I managed to buy Kanebo conditioner on some sale.
COMPOSITION of Shidenkai hair conditioner is a big mystery for me. I wonder if I am the only one to notice some correlation – the more luxurious product the less we know about its composition. Manufacturer only gives away that conditioner consists of silk extract Koishimaru EX and that it was supplemented with active substance providing thickness and volume of hair.
Silk sounds great, but what else is in the composition is a secret, so let's just cut to the chase.
PROPERTIES of Kanebo Sensai Shidenkai are based mostly on ensuring volume and flexibility, so no surprise, that it will be best for people with fine hair. All in all I have quite thick hair since I use castor oil, but it was not always like that. More or less a year ago I lost almost half of my hair, and the rest I was left with was really miserable looking. This hair conditioner helped, but results weren't as good as I expected. Volume was not that impressive, but hair were visibly moisturised, nourished and more beautiful. Additional effect, that I have not expected at all, was soothing of scalp irritations, what is a merit of antibacterial and anti-inflammatory properties of conditioner. The next day my head was always itchy, but during use of Sensai conditioner I had no problems of this sort.
USE of Shidenkai Volumising Conditioner is really simple. Apply conditioner on damp hair after wash, then rinse it. Conditioner can be rinsed a moment after application, but if you have a bit more time, then you should keep it on a little bit longer. It is an individual matter, there are no particular directions.
FORMULA of Kanebo Shidenkai Conditioner is interesting. This hair conditioner has a simple 250 ml/8.8 oz. bottle that makes application very easy. Product has perfect consistency, so it does not weight hair down or runs down. A moment after application it absorbs in hair leaving sensible silky layer.
EFFICIENCY of Sensai Shidenkai I assess as great. Not too thick, but also not too runny consistency makes it easy to take as much of the product as you need. Despite that, brand have not equipped its product with any applicator (e.g. pump), the hole in the bottle is small enough to not allow accidental discharge of too large amount of product.
AVAILABILITY and PRICE of Sensai Volumising Conditioner do not amaze. As it is in case of luxurious products, this conditioner costs £20. It can be easily purchased in online shops.
Why would I buy Sensai Volumising Conditioner?
Kanebo conditioner is an effective product with great consistency and efficiency. It is placed in handy packaging and application causes no problems.
Why WOULDN'T I buy Sensai Volumising Conditioner?
The cosmetic is not as good as it should be for this price and its composition is a big unknown.