Abundant Bamboo Volume is one of few hair conditioners with fair-trade and ecocert certificate that confirm the product combines three important elements – positive clinical tests, proven effectiveness and exclusively organic ingredients.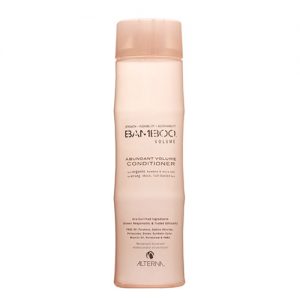 COMPOSITION of Bamboo Volume conditioner is based on four main substances, that by manufacturer are described as entirely ecological and not animal tested. Perfect option for vegans! The main substance is an organic bamboo extract complemented by organic Maca Root (Peruvian plant resembling overgrown radish) and ecological Kendi oil (providing diverse omega acids and antioxidants) and vitamin E with antioxidant properties. On top of that, product does not contain parabens, gluten, phthalates, mineral oils, paraffin, stabilisers, washing substances or PABA.
PROPERTIES of Alterna Abundant Volume are an effect of standard action. Bamboo is expected to strengthen hair, which at regular use increasingly less fall out and are much stronger. Maca Root nourishes fibres and stimulates bulbs to more effective work. It additionally gently cleanses hair, which cannot be observed because conditioner is usually applied on washed hair (personally I do not prefer hair wash with conditioner, but I know there are supporters of this method). Alterna ensures us that conditioner provides hair with freshness, lightness and gloss through moisture.
However, on my hair, the effect was entirely different, because ends were dry and hair rough – no matter the amount of applied product and time the product was kept on hair.
USE of Abundant Volume Conditioner is limited to standard action, i.e. hair wash, drain of excess water with towel and massaging in the conditioner on entire hair length. For optimal effects, you should leave conditioner for 3 minutes on hair and then thoroughly rinse it.
FORMULA of Bamboo Volume Conditioner is no surprise. It is a creamy conditioner with quite good absorption and easy in application. What is more, this bamboo conditioner has an amazing aroma, which sadly is more intense in the packaging than on hair.
EFFICIENCY of Alterna Abundant Volume could be better if there would be used some applicator like pump. Unfortunately, administration of product with use of standard hole in the bottle increasingly lowers its efficiency. With applicator we could enjoy it for much longer.
AVAILABILITY and PRICE of Abundant Bamboo from Alterna could also be better. This conditioner is quite expensive as for such a capacity (250 ml/8.8 oz.) and properties, but it can be ordered online with delivery straight at the doorstep, and that limits visits at dragstore.
Why would I buy Abundant Bamboo Volume Conditioner?
This conditioner has very thoughtful composition based on organic substances, it was not tested on animals, effectively strengthens hair, applies without a problem and absorbs well.
Why WOULDN'T I buy Abundant Bamboo Volume Conditioner?
In fact, product does not deliver the volume promised by manufacturer, it can even cause dryness and split ends; conditioner is not efficient and its pleasing scent is not very long lasting.