Total Repair 5 Damage-Erasing Balm is a hair conditioner from Advanced Haircare line. I had a pleasure of using this product two months ago, when I get it as a gift from a friend, that claimed it worked for her. As you know, effectiveness of hair conditioners is an individual matter.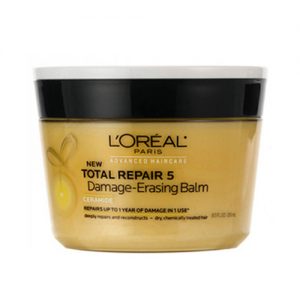 COMPOSITION of Damage-Erasing Balm does not amaze. Beside hydrolyzed wheat protein, arginine, aqua and few essential fatty acids, composition of this hair conditioner is very chemical. There are present fragrances, preservatives and silicones (e.g. amodimethicone). Overall, no wonder that it is not suitable for all hair types. It is just that not every hair like silicones.
PROPERTIES of Total Repair 5 Damage-Erasing Balm can be described shortly – one solution to five most popular problems. Manufacturer ensures that Advanced Haircare hair conditioner is able to repair damages created within the last year. My hair weren't that damaged, when I got this conditioner, but they were a bit burnt at ends from often straightening. Damage-Erasing Balm from L'Oréal is expected to eliminate five problems: split ends, weakening, roughness, matt and dehydration of hair. Roughness and split ends were my greatest issues, that were also possible to deal with. Right after first week of use Total Repair 5 Damage-Erasing Balm, my hair became more velvety, soft and better in maintaining. As to the properties of this product, then there is nothing that I do not like, because my hair really like it.
Although I understand that there are people who avoid silicones in the composition, because conditioner then provides undesirable effects.
USE of L'Oréal Paris Total Repair 5 causes no problems and fortunately does not require lots of time as in case of other regenerative products. Small amount of conditioner apply on washed and damp hair. Massage it in the scalp and leave for 3 minutes then rinse. There is nothing simpler than that, and results are surprisingly good.
FORMULA of L'Oréal Damage-Erasing conditioner is very pleasant. Product has a thick, creamy consistency and was placed in a jar. You have to be really careful with the amount of cosmetic you will apply on hair, so to be able to massage it in hair on their entire length without weighting them down at the same time. Contrary to appearances, the line is easy to figure out and use of conditioner is truly intuitive (at least it was for me).
EFFICIENCY of Total Repair 5 line I assess as very good. However, I tested conditioners that lasted for much longer with the same intensity of use. In my opinion, the efficiency is influenced by the thickness of the product, because you need more product for single application and there is only 250 ml/8.8 oz. in the jar. Personally I prefer liquid conditioners with consistency of silk or oil, which are better in dosing and have more thoughtful packaging.
AVAILABILITY and PRICE of Damage-Erasing Balm are the greatest bust of this product. It is effective, it is pleasant for hair, but as it turns out it is not available in every country. L'Oréal Paris releases various cosmetic lines for different markets, so Total Repair 5 Damage-Erasing Balm can be easily bought in USA for few dollars, while in Europe it will limit with miracle to find it and we can only satisfy ourselves with equivalents from similar lines.
Why would I buy Damage-Erasing Balm?
This product effectively regenerated my damaged by excess stylisation hair, it is cheap, does not require a lot of time and has pleasing, creamy formula.
Why WOULDN'T I buy Damage-Erasing Balm?
Conditioner has rather chemical composition and is not based on natural ingredients, it is available only in USA, its efficiency is quite average and packaging not that good.