Volumifique is a gel-fluid for hair deprived of volume, which I needed during my last summer vacations. My hair were flat and it was impossible to make any hair style of them, so I needed immediate help.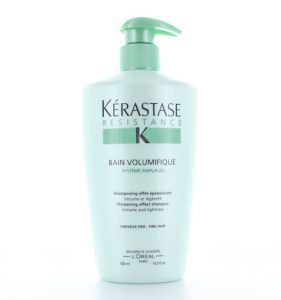 COMPOSITION of gel-fluid from Kérastase can be described in few words – innovation in fight for beautiful and healthy hair. Ingredients responsible for properties of hair conditioner providing volume from Kérastase is mostly Ampli-ciment™ complex and Stylight® texture, which are two very secretive ingredients, providing us with no clarity whatsoever.
PROPERTIES of Volumifique are based on support of fine hair deprived of volume. The task of this conditioner is most of all raise of hair at the roots, ensuring volume and providing the hair with shape. In fact after first use of conditioner the difference can be felt. It significantly speeds up drying time, and after that they seem like there is more of them. Unfortunately, optical boost of hair has nothing in common with thickening of them, so great effect of increased volume lasts only till the next hair wash. Volumifique is a hair conditioner with additional anti-static properties, what relates to hair being light and allow you to avoid fly-away hair.
Certainly, Volumifique will make stylisation easier and in delicate way preserve hair style, because its properties are immediate.
USE of Kérastase conditioner may seem problematic, especially taking into consideration that this product is called a gel-fluid. We have a surprise here, because conditioner was supplied with applicator in form of spray, what makes application of product significantly easier. You just have to spray hair, which you first washed and dried with towel, then proceed with stylisation and blow drying. It is a leave-in conditioner.
FORMULA of Kérastase Volumifique is very pleasant. Conditioner has entirely liquid form, that is why atomiser was used, so to make application easier as well as to limit eventual dripping of conditioner from hair. Product smells nice, dries fast without weighting hair down, clumping or greasing hair.
EFFICIENCY of Volumifique deserves a big plus. Ideal consistency of product, which is not necessary in large amounts to cover hair on their length and the applicator make properties of conditioner long lasting. Packaging of 125 ml/4.4 oz. will last for few months or longer, depending on intensity of use.
AVAILABILITY and PRICE of Volumifique shouldn't be a problem. Conditioner is one of those more expensive, but there is no problem with finding it. Product is available in many dragstores and online shops, so it is possible to find it in a bit more affordable price.
Why would I buy Volumifique?
Hair conditioner in form of liquid fluid is an innovative solution with immediate properties; adds volume and makes stylisation easier without weighting hair down. Atomiser provides pleasant use and increases efficiency.
Why WOULDN'T I buy Volumifique?
For such a price I expect that hair will have more volume than just raise at the roots and temporary optical action, but rather so that hair fibre will be in fact thicken. Sadly, that is not what this product offers, and the volume disappears after first hair wash.